Affordable Fully Managed Cloud
Managed Cloud Solutions
Complete management of Amazon AWS, Microsoft Azure, Google and/or private cloud. Migrations, project management, monitoring, systems management, optimization, security, and configuration of your cloud solutions and products. Resource optimization, cloud integration, and flat, predictable spending solutions with QOS Consulting Fully Managed Cloud solutions. With all the advantages that cloud computing brings to the table, planning, designing, implementing, deploying, and managing a cloud-native architecture is a challenging endeavor. It can be costly if you lack skilled cloud solution architects, engineers, and administrators to run a smooth operation.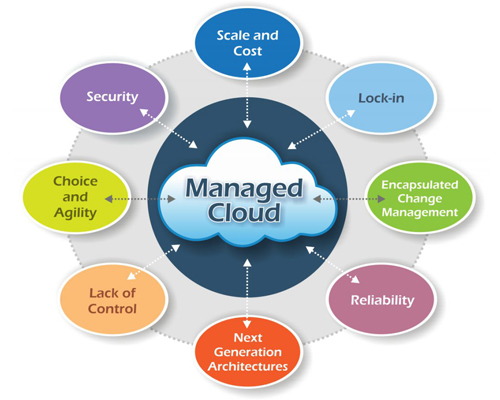 What Are Managed Cloud Services?
Managed cloud services are services that offer partial or complete management of a client's cloud resources, infrastructure and/or platforms. Management responsibilities can include migration, configuration, optimization, security, and maintenance. These services are designed to enable organizations to maximize benefits from cloud services while minimizing internal time and costs. By using a managed cloud service provider, a business can ensure its cloud resources run efficiently. QOS Consulting services the Chicago area. Outsourcing cloud management also allows businesses to avoid new hiring and training costs.
Managed cloud services can provide private, public and hybrid cloud environments. Working with a managed cloud services provider is a collaborative process. To determine the best cloud resources for the user's IT infrastructure, we evaluate the client's applications and data. Then, we'll create a custom plan detailing the steps to build and run an optimized cloud environment.
You can access cloud services for public, private, and hybrid clouds at any point in the cloud adoption lifecycle. Often, organizations will contract us for services before migration to gain help determining which cloud resources best suit their needs and to ensure that configuration is performed correctly.
Managed Cloud Specialties
Learn more about these specific cloud services that we have experience in.
Resource Optimization With Managed Cloud Solutions
QOS Consulting's Managed Cloud Services can assist you in determining which services are most appropriate for your business and its workload. We can also assist you in determining which pricing models are the most cost-effective for your needs, as well as how to setup services to maximize performance while lowering expenses. Detailed statistics and performance measurements for your current resources, as well as recommendations for better setups, can all be elected.
Managed Cloud & Integration
Integration assistance is a big plus with QOS Consulting, especially if you're attempting to build a hybrid or multi-cloud environment. Multi-clouds mix cloud services from different providers, whereas hybrid clouds combine on-premises and cloud resources. In comparison to single-cloud or cloud-only deployments, these environments sometimes need more complicated configuration. QOS Consulting can assist you in ensuring that any cloud resources you select are seamlessly integrated with your current systems.
Predictable Managed Cloud Solution Pricing Models
To suit a variety of demands, QOS Consulting employs a tiered, subscription-based support approach. Budgets become more flexible and help to guarantee that you only spend what you expect each month. This allows you to get more help during high-demand periods in return for less help during calmer ones. This is perfect for businesses that have varying or seasonal schedules. For instance, tax or auditing firms.
Resources And Skills
No matter what your enterprise's talent needs are, QOS Consulting can fill them. We are able to service the Chicago, Illinois area. From basic to advanced, we engage with engineers and technicians that run the gamut of experience. If your organization needs permanent talent, we can provide that.
Contact QOS Consulting to find out how we can help you with your Managed Cloud needs.