AWS Managed Cloud
Managed Cloud Solutions
QOS Consulting AWS Managed Cloud makes it easier to manage and protect your AWS infrastructure. AWS Managed Cloud can supplement and maximize your operational skills in both new and current AWS settings by leveraging AWS services and a growing library of automations, configurations, and run books. Whether clients are just getting started, relocating a data center, or constructing optimized cloud solutions, continuous operational excellence is a key component of cloud success. Short-term or long-term, QOS Consulting AWS Managed Cloud can supplement your cloud operations skills and expertise, allowing you to focus on modernizing your apps and company in the cloud. This gives you operational flexibility, improves security and compliance, and helps you maximize capacity and implement cost-cutting measures.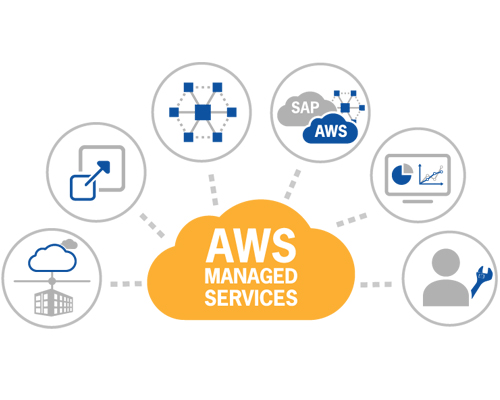 We are your Azure Managed Cloud Partner
We provide end-to-end services for businesses utilizing Amazon Web Services (AWS) to construct crucial cloud applications. QOS Consulting services the Chicago area. We give the shortest time to value on AWS with 24x7 operational management thanks to our extensive experience on the AWS Cloud, automated blueprints, and procedures. Here are some more great reasons to choose QOS Consulting as your Azure Managed Cloud Partner:

Operational Flexibility
Whether you're shifting to the cloud or just need additional help with monitoring, issues, or patch management, QOSC AWS Managed Services gives you the freedom to choose the optimum amount of operations support. AMS cloud professionals collaborate with your current operations team to provide proven operational support.
Enhanced Security and Compliance
QOS Consulting AWS Managed Services creates and maintains a growing collection of compliance, operational, and security guardrails to help you stay in compliance with your rules. Through automated detection and remediation automations, our teams decreases the complexity of completing compliance program standards (HIPAA, HITRUST, GDPR, SOC, NIST, ISO, PCI, FedRAMP).
Cost Optimization
QOS Consulting AWS Managed Services assists with financial and capacity optimization throughout your AWS estate without compromising operational outcomes or security. Our customers have realized operational savings of up to 30% and AWS infrastructure savings of up to 25%, while significantly increasing operational SLAs, security, and compliance posture.
Other Managed Cloud Specialties
Learn more about these specific cloud services that we have experience in.
Resource Optimization With Azure Managed Cloud Solutions
QOS Consulting's Azure Managed Cloud Services can assist you in determining which services are most appropriate for your business and its workload. We can also assist you in determining which pricing models are the most cost-effective for your needs, as well as how to setup services to maximize performance while lowering expenses. Detailed statistics and performance measurements for your current resources, as well as recommendations for better setups, can all be elected.
Azure Managed Cloud & Integration
Integration assistance is a big plus with QOS Consulting, especially if you're attempting to build a hybrid or multi-cloud environment. Multi-clouds mix cloud services from different providers, whereas hybrid clouds combine on-premises and cloud resources. In comparison to single-cloud or cloud-only deployments, these environments sometimes need more complicated configuration. QOS Consulting can assist you in ensuring that any cloud resources you select are seamlessly integrated with your current systems.
Predictable Azure Managed Cloud Solution Pricing Models
To suit a variety of demands, QOS Consulting employs a tiered, subscription-based support approach. Budgets become more flexible and help to guarantee that you only spend what you expect each month. This allows you to get more help during high-demand periods in return for less help during calmer ones. This is perfect for businesses that have varying or seasonal schedules. For instance, tax or auditing firms.
Resources And Skills
No matter what your enterprise's talent needs are, QOS Consulting can fill them. We are able to service the Chicago, Illinois area. From basic to advanced, we engage with engineers and technicians that run the gamut of experience. If your organization needs permanent talent, we can provide that.
Contact QOS Consulting to find out how we can help you with your Azure Managed Cloud needs.